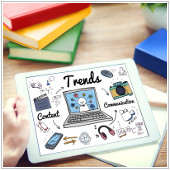 As a business owner, you understand the importance of upgrading your company's technology infrastructure. You're also aware that technology isn't cheap, which is perhaps why you're hesitant to invest in new hardware and software. But putting off or ignoring these upgrades altogether could mean missing out on benefits that add value to your business, including the following.
Better efficiency
Implementing new technologies introduces more efficient, flexible ways to carry out tasks, thus streamlining business processes. For instance, Voice over Internet Protocol phone systems and instant messaging apps enable your team to get in touch with one another, as well as with clients and business partners, whenever, wherever, on any internet-connected device. This makes relaying critical information much quicker and easier.
Similarly, business process management solutions automate repetitive tasks, like those involved in accounts payable processes. With automation, your staff saves time and effort and can focus on other, more important tasks.
Ability to address remote and hybrid work challenges
Many businesses are still struggling to cope with the challenges brought about by the COVID-19 pandemic, including how to manage remote and hybrid workforces. These issues can be addressed by implementing modern communications and collaboration solutions. Such tools allow entire organizations to stay connected and on the same page. Managers can check in on employees, and coworkers can call or message one another regarding projects they're working on together. Teams can also share documents and edit these at the same time, if needed. Additionally, they can use collaboration tools to set and track task progress so everyone's always kept in the loop.
Increased employee engagement and retention
Issues with technology, especially if these happen frequently, hamper employee productivity. They also lead to poor employee engagement and experience. Over time, minor inconveniences like computers that constantly freeze or web browsers that take ages to load can add up and create discontent among your staff.
Equipping your team with the latest hardware and software enables them to perform tasks smoothly and efficiently, without having to worry about the headaches associated with outdated technology. This also shows that you are invested in their comfort and employee experience, which increases their morale as well as their loyalty to your company.
Reduced costs
New technology pays off in the long run. The savings you will make from not having to constantly have your tech fixed or suffer productivity-draining downtime will far outweigh the costs associated with implementing new equipment and solutions.
If you invest in the cloud, you can enjoy even more savings, as doing so eliminates costs related to managing your own hardware such as maintenance and utilities. Such expenses will all be shouldered by your cloud service provider, so you no longer have to worry about budgeting for them.
Regardless of your business's size and industry, there's no doubt that new technology is critical for its growth. However, you need to ensure that any new hardware or software you decide to adopt is aligned with your company's needs and goals. You must also make sure that it's properly implemented so that you can make the most out of it. Our experts can help you do just that — drop us a line today to find out how.
Published with permission from TechAdvisory.org.
Source.