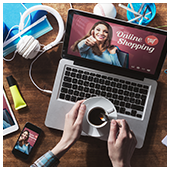 The COVID-19 pandemic accelerated the digital transformation of businesses across sectors, including eCommerce. By adopting tools powered by artificial intelligence (AI), in particular, e-tailers were able to cope with the sudden spike in online sales during the height of the pandemic and even expand their businesses. In this article, we discuss how AI can help eCommerce businesses improve their operations and drive growth.
Personalized recommendations
Machine learning (ML) is a branch of AI that enables software applications to more accurately predict outcomes using data and algorithms. In eCommerce, ML can be used to identify customer habits and interests based on search histories (both inside and outside a specific eCommerce business's site).
With proper configuration, ML can be used to analyze shopping behaviors to customize the online shopping experience to specific users. This enables e-tailers to make product recommendations, pairings, and promotions that target individual customers. As a result, customers' overall experience improves and, in turn, businesses' sales significantly increase.
Improved search capabilities
Voice and image searches in eCommerce are gaining widespread popularity. By integrating voice and image search tools into eCommerce sites, e-tailers make it easier, faster, and more convenient for consumers — especially those using mobile devices — to find the products they are looking for.
To start a voice search, customers can simply click on the microphone icon on an eCommerce site. Using AI voice recognition and natural language processing, the website will identify what the user said and display all products relevant to their search query. On the other hand, to initiate a visual search, all a user has to do is upload a photo of the item they are looking for or something similar to it. AI will then make suggestions based on the data from the uploaded image.
More efficient inventory and warehouse management
AI-powered demand forecasting solutions can help e-tailers better keep track of their supplies, ensuring that they don't run out of or overstock particular items. Such solutions enable this by leveraging sales trends and consumer behaviors, projected increases or decreases in demand, or possible supply chain issues that could affect inventory levels.
Many eCommerce businesses are also deploying AI robots in their warehouses. These robots can be programmed to retrieve products once an order has been placed or to store items once they've been delivered to the warehouse. This facilitates product dispatch and delivery, so customers receive their orders on time.
Better customer service
eCommerce businesses can leverage AI chatbots to deliver more efficient customer support. These bots can be programmed to facilitate simple transactions that simulate conversations with a live agent, such as questions about when orders will be delivered or the availability of an item. This frees up customer service representatives to focus on addressing higher-level or more complex issues.
Learn more about AI and how it can foster your business's growth by getting in touch with us today. We'll tell you all about AI and other innovative technologies that will enhance your operations and improve your profitability.
Published with permission from TechAdvisory.org.
Source.