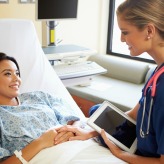 You and your patients can benefit from having an electronic medical record (EMR) solution in your clinic, healthcare facility, or hospital. It helps healthcare professionals keep a more comprehensive and detailed record of all their patients' medical information and treatment procedures. However, with so many software vendors out there, choosing the best EMR for your practice can be challenging. Here are criteria to consider when selecting an EMR system.
Determine your requirements
EMR systems come with a vast array of features for different types of users, and you should pay only for those functionalities that will bring value to your practice. Before you even consider your options, list down all of your practice's requirements. Be process-oriented — start from patient admission, then move on to patient scheduling, medication lists, visual reports, and so on. This list will help you identify which EMR solution addresses your needs and is the best fit for your organization.
Get one that matches your specialization
EMR systems with broad functions may not offer the specific features you need. Choose an EMR system with features that can be customized according to your specialization. For instance, practices that specialize in midwifery will need a unique EMR platform that offers a way to record a newborn's medical details.
Prioritize ease of use
EMRs should help healthcare professionals effectively treat patients and manage their needs. However, an EMR system that's too clunky or complex can make achieving this basic goal challenging. When considering your options, look for solutions that are easy to use. This ensures that even non-tech-savvy members of your staff will be able to quickly master the tool.
Additionally, ask the EMR vendor for a demo version of their products and try using this in your everyday operations. This will not only help your staff become familiar with the solution sooner, but will also let you uncover potentially disruptive usability issues early on. This enables you to find a resolution for such issues or move to less buggy alternatives.
Support and upgrades
Reputable sellers usually provide 24/7 support, which is very helpful in case you encounter technical problems while using the EMR system at any hour of the day. After all, technical issues can happen even during off-hours and cause problems for your practice. Furthermore, the software's manufacturer must offer various upgrades and updates to their product, including new features and bug fixes.
Vendor viability
Consider your vendor's plans for the future before purchasing their EMR product. You're not just buying from your vendor, but you're also creating a long-term relationship with them. Remember that technology is always changing, as are medical regulatory standards. Make sure that your vendor has good customer relations and that they have the ability to invest in future development. After all, EMR implementation can be costly and you don't want to make major changes to your EMR system every few months.
An EMR system is a crucial tool for any healthcare organization looking to provide the best care to their patients. If you need help finding the right one for your practice and integrating it into your operations, contact us today.
Published with permission from TechAdvisory.org.
Source.