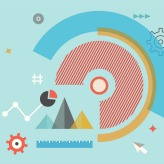 Data dashboards have become increasingly popular for businesses. These data visualization tools give you an overview of how your business is performing, and they cater to a wide variety of users, from marketing staff to project managers. Let's take a look at how dashboards can support your business activities.
Marketing insights
Your organization's marketing department analyzes a significant amount of data from various channels. Whether their purpose is to forecast monthly sales, predict trends, or build marketing strategies, marketing specialists use dashboards to compare, sort, and analyze raw data to produce meaningful information presented in an easy-to-understand manner. This helps key decision makers in your organization to formulate better marketing campaigns.
Tracking sales opportunities
Sales dashboards are ideal for tracking your organization's products and services. They help you identify sales opportunities by monitoring top-selling products and comparing the growth in revenue on a regular basis. Sales dashboards sync to your raw data, so your charts are always up to date. This eliminates the need to manually enter and prepare sales reports and charts.
Social media management
Social media management is more than just posting statuses on your business's social media accounts. And in most cases, your social media platform's default dashboard doesn't give you deep insights into your social media campaigns. What's more, managing multiple social media accounts can quickly become tedious since you have to use several login credentials. Instead, you can manage all of your accounts through a comprehensive social media dashboard, saving you valuable time and effort.
Financial reports
Presenting financial data is a complex process that often leads to misinterpretation of critical information. Dashboards simplify the creation of financial reports, and financial analysts can take advantage of dashboards to display sensitive data — be it customer invoices, progress toward revenue goals, or business expenses — in an understandable graphical format.
Project collaboration
All businesses require their employees to collaborate on projects, whether on site or online. Project supervisors need to get their teams together to give them project requirements, deadlines, and responsibilities, and to get progress updates. By using project collaboration dashboards, team members will see a project's complete workflow, allowing for a more efficient and collaborative working environment.
Dashboards streamline the presentation of complex business data and make your team more efficient. If you're looking to implement dashboards and other cutting-edge tools to make your job easier, contact our consultants today.
Published with permission from TechAdvisory.org.
Source.