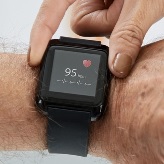 Wearable tech and mobile apps are great examples of innovations that significantly improve patient care. As a healthcare provider, you've likely had patients ask you about which healthcare apps and wearable technology they should be using. Here are the things you need to consider when making a recommendation.
Begin with the devices and operating systems you're comfortable with
Perhaps you're the type of doctor who refrains from making tech recommendations until you know the ins and outs of how something works. Don't fret — many of your colleagues feel the same way.
To help alleviate your apprehension, focus first on the tech that works on your preferred device and operating system. If you use an iPhone, download and test apps for iOS, not Android. And if you're already using a wearable device, focus on mastering its features before trying out other gadgets. It's also possible to have your technology provider arrange a demonstration of these devices and explain how they work. This way, you'll have a general idea of what they can do and how they can benefit your patients.
Figure out the scope of your recommendations
One thing doctors notice when exploring the world of health apps and wearable technology is just how massive and varied it can be. Your tech options are limited if you're a specialist, so you'll have a much easier time figuring out what to recommend to patients. But if you're a general health practitioner who covers a broader range of medicine, you might become overwhelmed by the breadth of options available today. This is why you must…
…Talk to your patients
By determining what your patients want to get out of their health apps and wearable tech, you'll narrow down their options to the most useful ones. For instance, if a patient has begun their fitness journey and has set weight and strength goals for themselves, then meal and workout tracker apps would be useful to them.
Remember: just because a particular piece of technology works great for you doesn't mean your patients will have the same experience with it. Recommend health tech in the same manner that you prescribe treatments — by considering the particular needs of your patients.
Ask a tech expert
Beyond efficacy and ease of use, there are other factors you need to consider when assessing a health app or wearable tech, such as how well it keeps patient information secure. To cover all your bases, consult with our tech experts. Our IT specialists can properly assess technology to ensure that you provide the best care for your patients.
Published with permission from TechAdvisory.org.
Source.