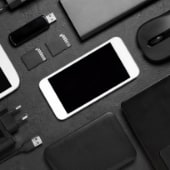 With the vast number of Android smartphones on the market, there are endless options for phone accessories. However, it's difficult to determine which products are worth your time and money. To save you the trouble, we've compiled a list of the best Android smartphone accessories available.
Camera lens add-ons
Most smartphones have high-quality cameras, but a camera lens add-on can take your photography to new heights. These tiny lenses are significantly less bulky than a real camera and far more affordable. Want to mimic the look of a professionally taken photo? A fisheye lens or even a macro lens can provide stunning results.
Waterproof pouch
Have you ever wanted to go water skiing or kayaking? Most smartphones today are resistant to water, but they aren't entirely waterproof. When going to the beach or on a boat, take a waterproof pouch with you to preserve precious moments without risking damage to your phone. Waterproof pouches function like Ziploc bags, sealing your device in and keeping water out. Some come with air cushions that ensure your phone will stay afloat in case you accidentally drop it in a pool or the ocean.
Phone sling
A phone sling is a versatile accessory that you can wear around your neck, across your body, or over your shoulder. Whether you're taking a short stroll down the street or jogging in the park, this accessory lets you carry and access your smartphone without the need to reach into your bag or pockets.
Motorized smartphone mount
Have you ever wished a professional photographer could take beautiful photographs and videos for you? Have you ever wanted to make mind-blowing time-lapse films like those on Instagram? Perhaps you want a completely automated video recorder for your vlog or YouTube videos? If so, then you should get a motorized smartphone mount. These mounts come with a motorized head you can control using a remote or an app via Bluetooth. Its features include auto-tracking, 360-degree horizontal rotation, and smart capture.
Wireless earphones
With most current smartphones having no headphone jacks, getting a good set of wireless earphones is a must. There are various selections available, ranging from budget-friendly to more expensive ones.
You can choose subtle, lightweight earphones or over-the-ear headphones that are excellent at noise cancellation. With wireless earphones, you can listen to your favorite album or podcast while traveling, working out, or relaxing without worrying about tangled wires.
These Android accessories let you enhance the capabilities of your smartphone, whether it's in terms of protection, music, or photography. They also let you customize your phone so that it reflects your personality and style. If you want to learn more about Android devices, call us today.
Published with permission from TechAdvisory.org.
Source.